9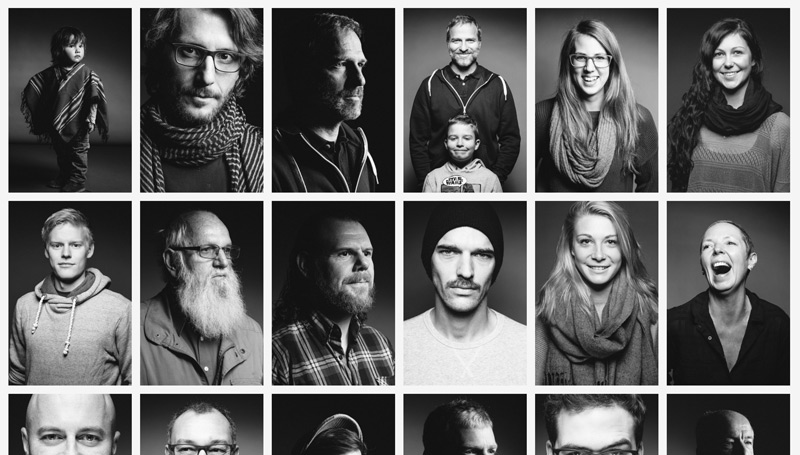 152 Portraits in 2 Days
Every year at the"Photo & Adventure" trade fair i am shooting Portraits with Canon like crazy. Usually i really take my time for portraiture, but this one time every year i´m challenging myself, the equipment and the people in front of the lens.As you can imagine, the bigges challenge this weekend, was to shoot express portraits in just some minutes, of people i never met before and had no chance to get to know them better. Which is a very important part of portrait photography i think. Get to know your subject, find out who they are and make them look authentic on their portrait. What a challenge 😉 Fortunately we had only good feedback from that weekend, so it seems we worked it out just fine.
HOW WE DID IT
Besides the challenge to get a proper portrait from so many different people you´ve never seen before, there is also a technical challenge behind this. We had to be very, very fast to get the shot and print it right away on the Canon Pro-1, the Canon Selphy or the Canon IPF6400 in large format. Of course, usually i´d never shoot portraits like these in JPG mode, like always, we shoot RAW. Always always and always. In this case, i set the camera to shoot RAW AND JPG files, so we didn´t need to edit the raw files before printing ans saved a lot of time. This means the settings in the camera have to be perfect (or as perfect as possible at least). I spent some time on day one to find the best in camera settings for our needs for nice black & white portraits. Turned out the best settings would be contrast +2, sharpness +1, no color filters and then slightly overexpose the shots (around +1/3 – 2/3). This made the prints on the Canon Pro-1 look perfect. As i had all the portraits in RAW format also, i didn´t have to care about the slightly overexposed images, as i could correct this in lightroom afterwards to fit on most screens.
THE LIGHTING
The light setup was quite simple but also quite challenging to get perfect results. I used one ProFoto D1 Compact 500 Air on a boom stand, with a white beautydish and honeycomb, centered very slightly over the head of my subject. This is where it gets challenging – if the beautydish is too high (even if it´s only some cm/inches) you get quite hard, ugly shadows in the face and loose the catchlight in the eyes. So the beautydish should be as low as possible, so you can shoot underneath it, but get enough light in the face. And yes, that means you have to reposition the beautydish for every single face you shoot. A bigger light would have been easier. But not as beautiful. I really love the light a white beautydish with honeycomb gives you for portraits. If it´s done the right way.

(iPhone App Light Setup)
As background i´ve chosen a light grey paper roll. A lot of photographers asked me that weekend why i didn´t use a black or dark grey paper, if i wanted to get all the pictures that dark. Well, i like to have more room to play around with the tones in detail. Bringing the subject and the light a little closer to the background makes it a bit brighter and the falloff in the background a bit harder. If you shoot far away from the light grey with the honeycomb, there will be almost no light on the background and you get it almost black. Almost is the most important word here, as real black wouldn´t be too good in most cases.
Here are some of the results we shot and printed that weekend. These might not be the best portraits ever, but i think we managed this challenge of shooting 152 people in 2 days and printing them right away quite well 🙂 Hope you like it.